Much Ado About Nothing?
I think so. After being spotted by the cops for driving "erratically," a guy gets pulled over and
...arrested near Denver with two rifles, a bulletproof vest, ammunition, walkie-talkies and suspected drugs. Federal officials say two other men and a woman were apprehended a few hours later.
- (snip) -
The action started around 1:30 a.m. Sunday when police in Aurora stopped a truck that was swerving erratically near East Hampden Avenue and South Parker Road. The driver, Tharin Gartrell, 28, had a suspended driver's license, and the truck was rented in the name of another person, said Aurora police Detective Marcus Dudley.

The address on his license listed a home in Centennial, Colo., but that is not his current address and police still do not know where he lives, Dudley said.

In the truck, officers found two rifles, including one with a scope; a bulletproof vest; boxes of ammunition; walkie-talkies; and suspected narcotics. On edge because of heightened security surrounding the Democratic convention in Denver, Aurora police alerted federal authorities. At least one of the rifles was stolen out of Kansas, he said.

Later Sunday, federal agents arrested Johnson, 32, at a hotel in Denver. He was held on drug charges. A half-hour later, 33-year-old Shawn Robert Adolf jumped from a sixth-story window when authorities tried to arrest him at a hotel in Glendale, police said.
I know appearances can be deceiving and assassination attempts have been carried-out by "less than professional" would-be assassins, but, really, take a look at these three clowns...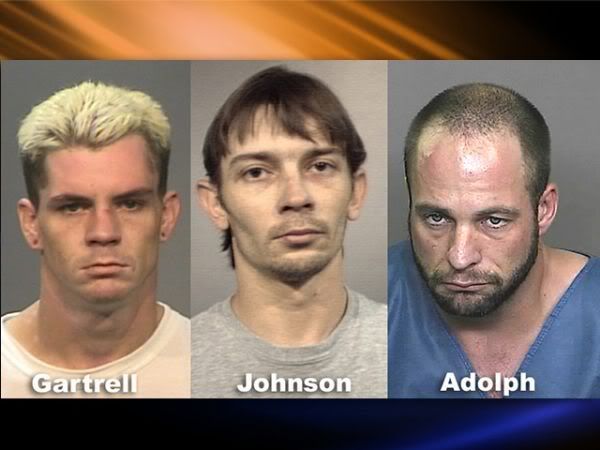 ...and tell me that the first thing that comes to your mind is NOT "tweakers/crack-heads/meth-heads." And, apparently, at least one of them is.
...Gartrell was being investigated for methamphetamine and firearms violations.
The story starts-off this way:
U.S. Attorney: Racist Rantings Does Not Mean Assassination Plot
Police: Suspect Found With Rental Car, Rifles, Bulletproof Vest

DENVER -- Three men who authorities initially feared were plotting to assassinate Barack Obama at the Democratic National Convention are facing only gun charges, after the U.S. Attorney's Office deemed that there was insufficient evidence to charge them with conspiracy, making threatening statements, or other national security-related crimes.
That's the story and photos from
ABC Denver, channel 7
.
The story made it down here in little old New Zealand, too, and here's the
headline in the NZ Herald
:
Arrests made after police fear of plot to kill Obama
The stories are essentially the same (off the AP wire), but notice the difference in the headlines. One is a bit more sensational, at least to me. I stated early on in this campaign that the worst thing that could happen for the GOP would be if somebody attempted an assassination on Obambi, or, worse yet, actually succeeded. The Dems would get as much PR out of it as they could by blaming it on the GOP. I will go so far as to state right now that if something happened to Obambi, I believe that the Donks would be behind it - a "Reichstagging". In other words, I wouldn't put it past them to engineer something that they could spin by blaming the GOP and generate sympathy for Obama and further disdain for the already tarnished image of the GOP. I'm no conspiracy theorist, but, hey, stranger things have happened - the
Reichstag Incident
,
was
real.
Hat-tip:
Oldcatman
Labels: OBAMACAIN '08(tm)