Boobs Or Bombs?
I heard about
this
while driving to work this morning, and I don't know what to say:
SYDNEY (AFP) - The Australian military Sunday defended its decision to pay for some female sailors to have breast implants, saying the operations were not carried out for cosmetic reasons.

Australian Defence Force spokesman Brigadier Andrew Nikolic did not say how many women had had the taxpayer-funded operation.

But he said the military would consider paying for plastic surgery for personnel where there were medical, dental or compelling psychological or psychiatric reasons.

Any suggestion that breast operations were carried out to make the women "look sexy" were not only wrong, but insulting, Nikolic said.

"Under defence policy we do consider the holistic needs of our people, both physical and psychological," he said.
Wait, I DO know what to say.
Are you fucking kidding me?!?!?!?!?!!!! "Holistic needs?" What kind of ridiculous, inane, touchy-feely, free-to-be-you-and-me, moonbat bullshit is that? If a woman is that unstable that her "self esteem" is predicated on whether or not she's got a nice set of jugs, she doesn't belong in the military. Or how about this as an alternative?: Instead of just giving-in to perpetuating the "women as sex objects" stigma that the feminists have been harping on about for the last 40 years, why not spend the time and money on counseling to help a woman deal with her "holistic needs" on her terms - not based on the phallocentric, media-driven objectification of women which contributed to her low self-esteem to begin with?
"For psychiatric or psychological reasons, this has been recommended after a medical evaluation," he told state radio. "It's not being done because someone just wanted it."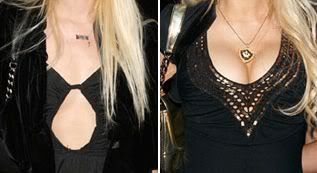 It's good to know that your hard-earned tax dollars are being spent on silicone boobs so military gals can look and feel like "Lara Croft, Tomb Raider" rather than bombs and bullets, despite what the ADF mouthpiece says. I'm sure Al Quaeda is quaking in its collective burqa now. (To be fair, I believe the US military has implemented a similar policy, and my views apply to them, too.)