We're Back!
After almost a year, the Yank is back! A lot has happened in the world, and we'll cover that in time. First, though, we're making some changes. I've said this before when I have gone away from the blog for a while, but this time we'll be making a REAL effort to not get caught-up in the day-to-day bullshit of politics. You can visit any one of the blogs on our blogroll for the latest in that type of coverage, but we're really going to expand the blog into much more of an eclectic experience. I'm getting back to what I really enjoy - music, cars, bikes, music, racing, rugby, music; book, movie and TV reviews; cartoons/funnies/photos; did I mention music? Yeah, I'll still do essays and op/eds and coverage of things happening here in Kiwiland, but I want to share a bit more of my interests, and hopefully you'll find at least some of it interesting, too!
First up, let's get into some music. I started playing guitar nearly 30 years ago because I had a real passion for the music I was growing up with - the rock music of the 70's. Not long after that I got into jazz, too, thanks in no small part to a high school band-mate named John Medeski, a real prodigy and fantastic musician (keyboards) who has since gone on to a career in music with his own band,
Medeski, Martin, and Wood
, as well as playing with some jazz notables like guitarist John Scofield. While still a kid in high school, John played with the late, iconic jazz bassist, Jaco Pastorius of Weather Report fame as well as backing-up Pat Metheny and Joni Mitchell among others. I played guitar through high school and university where I double minored (along with English literature) in music theory and played a lot of jazz and rock gigs, and, while I haven't put in the 6-8 hours a day practicing like I did back then, I still enjoy picking-up the guitar now and then, and my love for music has never waned.
Lately, I have found a lot of really good stuff on Youtube, the following being no exception. This is a band you may be familiar with:
Free
, two of whose members, singer Paul Rodgers and drummer Simon Kirke, went on to form Bad Company. The following clip is from the
1970 Isle of Wight Festival
, which, while surpassing Woodstock in sheer attendance numbers, was considered by most observers and participants to be a less the favorable gigging experience. Gone was the flower power, peace and love movement embodied by the Woodstock festival, to be replaced with more angst and some violent episodes, due in at least some part to the presence of biker gang elements, though nothing like what happened at the
Rolling Stones concert at Altamont, CA
the previous year (Note: The Wikipedia article cites the stabbing death of Meredith Hunter as having occurred during the performance of "Under My Thumb", but it was actually during "Sympathy for the Devil").
Anyway, Free was an awesome band with a minimalist, hard-edged bluesy sound; raw, young talent at its best (they were barely out of their teens when they appeared at the Isle of Wight). Paul Kossoff had one of the best quivers (string-bending tremelo), and was a master of the "less is more" approach to guitar soloing; Simon Kirke lays down solid time; Andy Fraser's bass is sublime, providing great syncopation and rhythmic links to Kirke's drumming and harmonies to complement Kossoff's guitar; and Paul Rodgers has one of the best rock voices ever, full of soul and power. Essentially a "power trio" (much like Cream) with a vocalist, Free relied on tight interplay between the musicians to achieve a sound that was bigger than the sum of its individual parts.
One thing I noticed while watching these old videos was a rather uncanny resemblance between Rodgers and
Jason Lee
(of the TV show, "My Name is Earl"), who played the lead singer, Jeff Bebe, of the band Stillwater, featured in the Cameron Crowe film "
Almost Famous
." It's almost as if Crowe said, "Make Jason look like Paul Rodgers."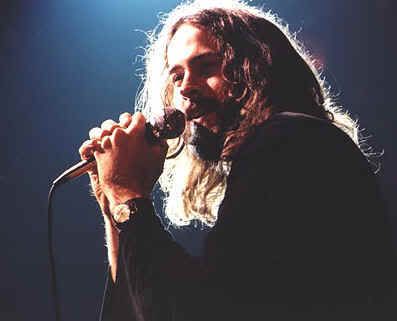 Jason Lee
as Jeff Bebe in Almost Famous (photo credit: Cameron Crowe)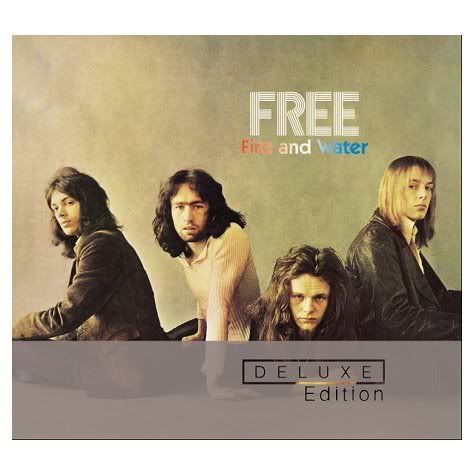 From left to right: Andy Fraser (bass),
Paul Rodgers
(vocals), Paul Kossoff (guitar), Simon Kirke (drums)
Enough of the background; here is Free doing "Mr. Big" at the Isle of Wight Festival. Enjoy!!!
Here is a much "cleaner" rendition, a live-in-the-studio version from 1971.
And this is a (reportedly) rare black-and-white clip of a performance of their BIG hit, "Alright Now", circa 1969, Australian release.
For more just got to
Youtube
where there are quite a few videos of Free doing a few of their other songs as well as some interviews.
I'll try to do a new music feature on every post, and I'll definitely do some more on Free.
Labels: Music and Comedy