It's A Question Of Loyalty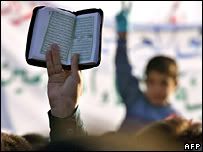 I was thinking the other day how muslim religion and culture seem to take precedence over their nationality. It seems they most always will put their religion and culture before their nation, so one may have to question the loyalty of a devout muslim. Then Vilmar sent this piece about Congressman Keith Ellison(D-MN), recently elected to the US House of Representatives, who was sworn-in using a koran and
refuses to answer questions
about his loyalty to the Constitution.
He was given unprecedented permission during this week's swearing-in ceremonies to place his hand on a piece of the nation's archival history – the Quran once owned by Thomas Jefferson – for his photo-opportunity with family and friends.

The two-volume edition, published in London in 1764, was brought to him in a special case sent by messenger from officials at the Library of Congress.

(snip)

Rick Jauert, a spokesman for the congressman, was reached at his campaign headquarters in Minnesota two weeks ago, and confirmed that the congressman does not believe there will be a conflict between his religious beliefs and his duty under the U.S. Constitution.

But when asked which would take priority if there is a conflict, or to describe how the congressman will resolve the differing philosophies provided by the U.S. Constitution and the Quran, which calls for beheading "infidels," he said he could not answer immediately.
If he can't answer that question
immediately
, then,
Houston, we have a problem.
It seems that in most Western, Christian-based nations religion reinforces a sense of nationalism, whereas in most of the Middle East it seems to be all about islam, regardless of the country. And that makes sense given that many Mid-East nations - Iraq and Jordan to name just two - are less than 100 years old. The hierarchy of "loyalty" goes: islam, tribe, nation.
I guess you could say that Ellison would be loyal to the US, not based on what it already
is
, but what Ellison and those like him would like the US to
become
. If they can make the US an islamic nation, then they can be loyal to
both
islam and the nation. Until then, they will remain loyal to islam and mount the jihad.