Auto Erotica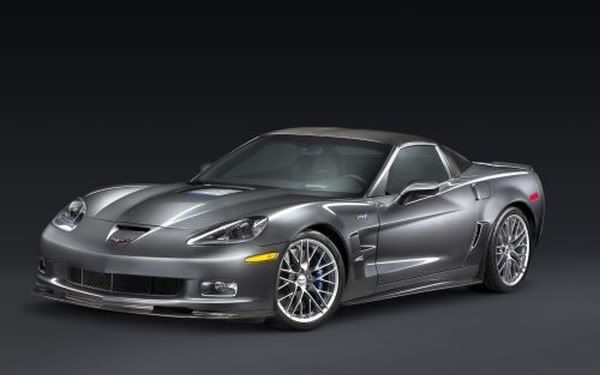 This is the new for
2009 Corvette ZR1
limited production supercar. This car is not to be confused in any way with the short-lived production run of the
1990-92 Corvette ZR-1
which utilized the 375 hp normally aspirated LT5 DOHC 5.7L engine built by Lotus and assembled by Mercury Marine for that car only. It was fast by standards of the day (the fastest 'Vette to that date and hailed at the time as "King of the Hill") and helped move Corvette development forward, but it doesn't even hold a candle to this one. GM wanted to pay tribute to the old ZR-1 with the 2009 model, but technological differences aside, they deliberately dropped the hyphen between the "ZR" and the "1" to differentiate the two.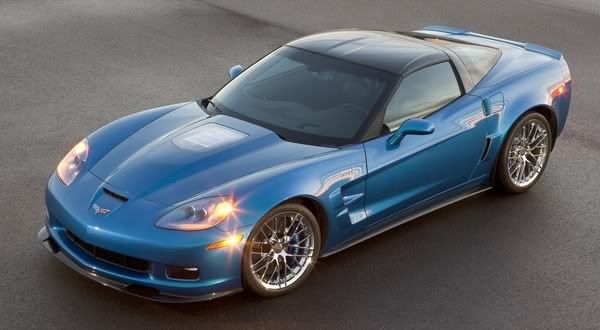 The Heart of the Beast - An exploded view of the LS9 supercharged and intercooled 6.2L V8 that powers the ZR1:
Here are some basic specs, courtesy of
Jalopink.
All-new LS9 supercharged 6.2L V-8 targeted at producing at least 100 horsepower per liter, or 620 horsepower (462 kW), and approximately 595 lb.-ft. of torque (823 Nm)
* Six-speed, close-ratio, race-hardened manual transmission
* New, high-capacity dual-disc clutch
* Higher-capacity and specific-diameter axle half-shafts; enhanced torque tube
* Specific suspension tuning provides more than 1g cornering grip
* Twenty-spoke 19-inch front and 20-inch rear wheels
* Michelin Pilot Sport 2 tires - P285/30ZR19 in front and P335/25ZR20 in the rear - developed specifically for the ZR1
* Standard carbon-ceramic, drilled disc brake rotors - 15.5-inch-diameter (394-mm) in the front and 15-inch-diameter (380-mm) in the rear
* Larger brake calipers with substantially increased pad area
* Standard Magnetic Selective Ride Control with track-level suspension
* Wider, carbon-fiber front fenders with ZR1-specific dual vents
* Carbon-fiber hood with a raised, polycarbonate window - offering a view of the intercooler below it
* Carbon-fiber roof panel, roof bow, front fascia splitter and rocker moldings with clear-coated, exposed carbon-fiber weave
* ZR1-specific full-width rear spoiler with raised outboard sections
* Specific gauge cluster with boost gauge (also displayed on the head-up display) and 220-mph (370 km/h) speedometer readout
* Only two options: chrome wheels and a "luxury" package
* Curb weight of approximately 3,350 pounds (1,519 kg)
All that translates into a car capable of over 200 mph, 0-60 in under 3.5 seconds, and a standing start 1/4 mile in 11.2 seconds @ 135 mph with the stock Michelin Pilots; those numbers drop to mid-10s with drag radials.
But this car is so much more than straight line performance. As noted above the ZR1 can achieve over 1.0 g in the corners, and nowhere is that more evident than when it was taken to the
The Nurburgring
in Germany, a tight, twisty, and very difficult road course, one lap of which has 100 turns when the 20,832 meter (12.9 miles) configuration of the
Nordshleife
("north fork") is included.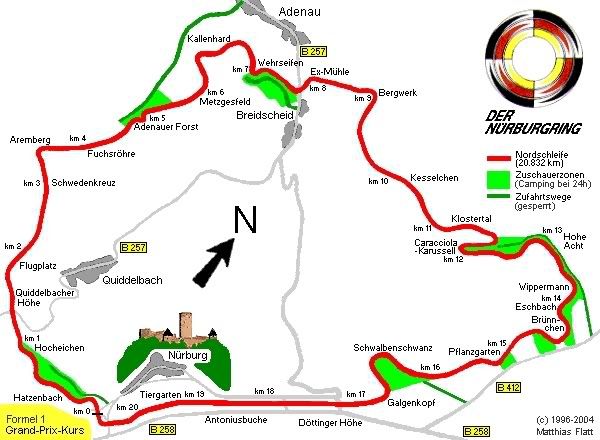 On June 27, 2008 the ZR1 was driven by GM design engineer, Jim Mero, to a production car lap record of 7:26.4 which is in a slight dispute. Regardless, as of now it stands. If you go to the Wikipedia link provided above, you will see what kind of company the ZR1 beat - the Porsche 911 GT2/977, the Nissan Skyline GT-R (all wheel drive), and other high-end, esoteric cars like the Pagani Zonda, and Lambo Murcielago, just to name a few. If you scroll down to the list of
Official Lap Times in Competitions
you will note that lap time is only 1:15 slower than the
absolute lap record
for the same 20.832km configuration, and that was set by a Porsche 956 prototype racer (with ground effects) that dominated European FIA Group "C" (Le Mans, Spa, etc.) and North American (as the IMSA-spec 962 variant) road racing in the mid 80's. Anyway, here is the official, in-car record run released by GM. Turn up your speakers and try not to drool on yourself!
**Personal observation from me as a mid-pack (with a few top three podium finishes to my credit) amateur motorcycle road racer of ten years (on and off): While I commend Jim Mero for a super drive, you'll notice a few minor screw-ups (especially with a bit of oversteer coming out of a corner at around 6:15 into the run) that, all told, probably cost him a second or two. I just wonder what the time would have been if Ron Fellows, Johnny O'Connell, Oliver Gavin, or one of the other professional drivers on the
C7R Corvette Racing Team
(that has won its class at the 24 Hours of Le Mans) was at the wheel.
And this is the ZR1 at the oval test track in Papenburg, Germany hitting its claimed top speed of 205 mph:
**Hat-tip to Vilmar who ran the lap record video a few days ago at his blog, Kickin' and Screamin'. His post inspired me to write this article.**
Labels: Auto Erotica