This Could Be A Lot Worse...
...if it weren't for global warming.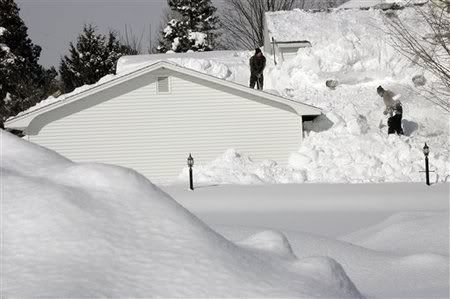 Dave Chase, left, and Ken Capstraw clear snow from a roof in Parish, N.Y., Saturday, Feb. 10, 2007. Sunshine greeted residents of this snowbound village on Saturday, giving crews a chance to haul away some of the 8 feet of snow

that has fallen during the past week. (AP Photo/David Duprey)



Copyright 2007 Associated Press. All right reserved. This material may not be published, broadcast, rewritten, or redistributed.
You'd think that maybe
eight is enough
? Nah, there's
more on the way
.
A warning in effect until Monday morning said 2 to 4 more feet of snow was possible with wind gusting up to 24 mph.
Global warming...ya' know, it might not be such a bad thing...imagine if it was a
cold
winter...